🤖 Warning: Current page has been automatically translated into English, and should be reviewed by a human translator. Expect some wacky wording!
Invitations
Not all groups have the invite system activated, so if you can't see the button 🙏 Invite me, ask a group administrator.
Request invitation
To request an invitation, click on the button 🙏 Invite me. It will be added below the list of entries to the account of coaches who are requesting an invitation. You must wait for another coach to agree to send you an invitation.
While you wait for someone to invite you, if you have changed your mind you can click again on 🙏 Invite meto withdraw the request. However, once you have been invited, as you are listed on the list, you must click on ❌I'm not going to unsubscribe.
Asking people to invite you privately is often considered rude, and you may even be reprimanded or kicked out of the group for doing so. The bot already privately warns those targeted who want to be notified when someone requests an invitation.
Invite coaches
If you want to invite someone who is requesting an invitation, you must click on the link with the number of coaches who are requesting it. The private chat with the bot will open and then you must click on Start. Don't worry, the bot hasn't stopped, it's a Telegram limitation.
You can individually select who you want to invite. By agreeing to invite a trainer, your 👨‍❤️‍👨 trainer code will be sent to them so they can add you as a friend in the game and you can accept it before the raid begins. It will also be listed in the raid list just below you.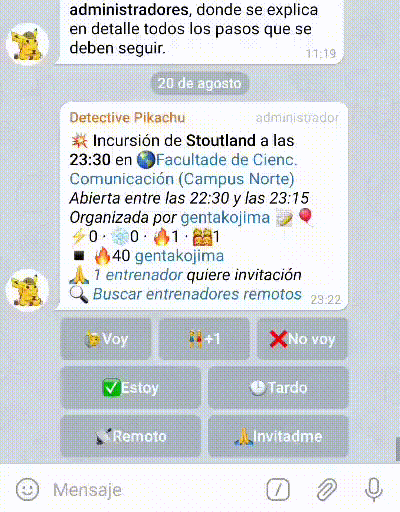 Guest coaches cannot invite other coaches, nor can they use the +1 buttons. They are added to the remote trainers account and are otherwise treated as such.
If you want the bot to notify you when someone requests invitations in a raid in which you have signed up, you can activate the option Tell me if trainers want invitation with the command /settings privately to @detectivepikachubot.
---